End-to-End Internet Solutions to Empower Connectivity
The hub for innovations and technology in Southeast Asia, gathering business, industry professionals, buyers, and government bodies to collaborate and foster partnerships. with suppliers and other businesses within internet and telecommunications industries.
The Only Business-To-Business Technology Trade Show In Indonesia
This event is a one stop solution to technology for businesses and enterprises towards empowering the digital economy. This is the place where technology leaders, startups and enterprises come together to present the future of every business and every industry, as it happens.
Unleashing the Power of Artificial Intelligence
Get ready to be part of an extraordinary gathering of visionaries, pioneers, and innovators at the Artificial Intelligence Innovation Summit (AIIS) 2023. This remarkable event is your gateway to shaping the future through groundbreaking ideas and cutting-edge technologies.
Harnessing the Power of Digital Talents to Support Indonesian Digital Ecosystems
Nusantara Data Center & Cloud Summit and Expo, where industry leaders, innovators, and experts gather, to unleash the power of data centers and cloud technologies.
Secure Your Future with Cyber Innovation
The premier event in Indonesia dedicated to the convergence of technology, innovation, and cybersecurity. Representing Indonesia Technology & Innovation, our mission is to foster a secure and innovative digital landscape in Indonesia and beyond.
Robotics and Automation to Foster Innovation and Opportunities
As the largest B2B Technology & Innovation Event in Indonesia, we take pride in bringing together industry leaders, visionaries, and innovators. Representing Indonesia Technology & Innovation, our mission is to foster a secure and innovative digital landscape in Indonesia and beyond.
Beyond Broadcasting : Empowering The Future of Media
As the largest event of its kind in Indonesia, INTI Broadcasting, Entertainment & Media Expo & Summit is your gateway to the pulse, of the industry. Whether you're a seasoned industry leader, a budding entrepreneur, a tech enthusiast, or simply curious about the latest trends, our event offers something for everyone.
Empowering Indonesia's Technological Future
Immerse yourself in a world of innovation as we bring together industry leaders, startups, and visionaries to showcase cutting-edge electronic products, share insights through thought-provoking conferences, and foster strategic collaborations.
Empowering The Police Force with Technology and Innovation
With a profound understanding of both technology and law enforcement, we have embarked on a journey to bridge the gap between, these two worlds. Our expertise lies in curating a dynamic platform that unites law enforcement agencies, technology innovators, and industry leaders.
Advancing Industry 4.0 through Sustainable Solutions
Sustainable solutions for the Industrial Revolution 4.0 are key to bringing great opportunities to increase productivity and efficiency. to support sustainable industry in increasing competitiveness in a globalized world for manufacturers and businesses.
Indonesia's Premier Platform for Green Industry
GREEN Industrial Transformation Indonesia 2023 is the most comprehensive green industry trade show in Indonesia, bringing together major brands presenting their innovative solutions and advanced technology for the green industry.
Drone Solutions for Industrial Competitiveness
An event developed by the community for the industry where drone companies can showcase their products & use cases, industry players learn about cutting edge solutions for competitive advantage, and professionals broaden their network to conduct business and make deals.
KEYNOTE SPEECH
Sandiaga Uno Minister of Tourism and Creative Economy of the Republic of Indonesia
Putri Kuswisnuwardhani Member of the Presidential Advisory Council, Republic of Indonesia
Nezar Patria Vice Minister of Communication and Informatics of Indonesia
SPEAKERS
Andi Widjajanto Governor of LEMHANNAS
Taufiek Bawazier Director-General of Metal, Machinery, Transportation Equipment, and Electronics Industry, Ministry of Industry RI
Kiky Yulianti Director General of Vocational Education, Ministry of Education, Culture, Research and Technology
Semuel Abrijani Pangerapan Director General of Information Technology Applications, Ministry of Communication and Information Technology
Laksmi Dewanti Director General of Climate Change Control, Ministry of Environment and Forestry of Indonesia
Wayan Toni Supriyanto Director General of Postal and Informatics Services, Ministry of Communication and Information Technology, RI.
Mohamed Ali Berawi Deputy for Green and Digital Transformation - OIKN
Drs. Slamet Aji Pamungkas, M.Eng Deputy for Cyber Security and Economic Code (BSSN)
Nanik Murwati, SE.,MA Deputy for Institutional and Organizational Affairs, Ministry of Administrative and Bureaucratic Reform (KemenpanRB)
Prof. Ir. Nizam, M.Sc Acting Director General of Higher Education
Laksdya TNI Prof. Dr. Amarulla Octavian Deputy Head of the National Research and Innovation Agency BRIN
Dr. Ardhasena Sopaheluwakan Acting Deputy for Climatology, Meteorology, and Geophysics Agency (BMKG)
Aju Widya Sari Director of Telecommunications Communications and Informatics, DJPPI
Bambang Dwi Anggono Director of Government Information Application Services, Ministry of Communications and Informatics
Andi Nur Alam Syah Director of Agricultural Machinery, Ministry of Agriculture
Dr. Eng. Hary Budiarto M.Kom, IPM Head of Human Resources Development Research and Development Agency, Ministry of Communication and Informatics of Indonesia
Agus Wibowo Head of Disaster Information and Communication Data Center, BNPB
Setiaji, M.Si Chief Digital Transformation Office, Ministry of Health
Fajar Prasanti S.ST, MT Head of Device Ecosystem Team, Directorate of PPI Standardization, Directorate General of SDPPI
Moch. Ali Hanafiah, S.Kom., M.Sc., Ph.D Head of Information Systems and Technology Center, Ministry of Finance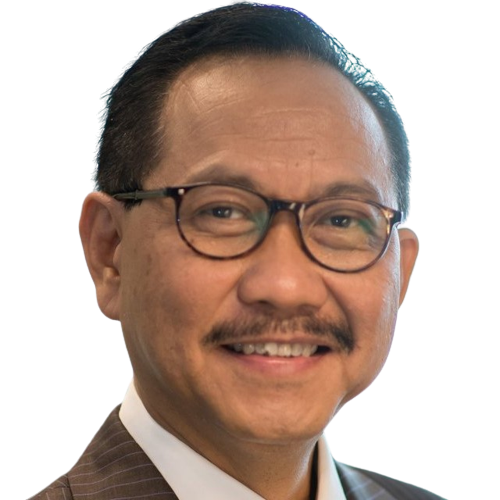 Bambang Susantono, Ph.D Head of the Capital City Authority
Dr. Rifki Sadikin Head of Computational Research Center, BRIN (Indonesian Agency for Research and Innovation)
Kelik Budiana, M.Kom Head of Food Data and Information Center, National Agency for Food and Drug Control (Bapanas)
Dr. Umiyatun Hayati Triastuti Widyaiswara Ahli Utama, Ministry of Transportation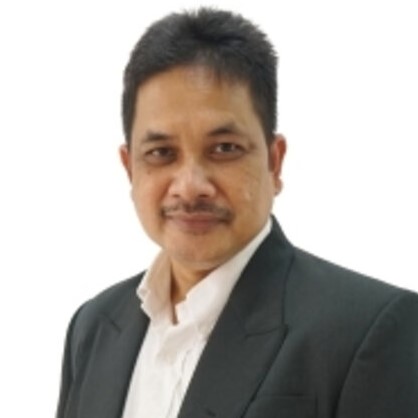 Agung Eru Wibowo National Research and Innovation Agency
Siska Pebiana, M.Sc Engineer Staff, BRIN
Brigjen. Pol. Dr. Yehu Wangsajaya Police of Republic of Indonesia
Muhammad Arif Chairman of APJII (Association of Indonesian Internet Service Providers)
Sarwoto Atmosutarno Chairman of the Indonesian Telematics Society
Prof.Dr.Ir. Hammam Riza M.Sc,IPU President of KORIKA
Hendra Suryakusuma Chairman of IDPRO
Teguh Prasetya Chairman of ASIOTI
Jerry Mangasas Swandy Chairman of APJATEL
Ir. Wendy Aritenang, Ph.D Chairperson, Center for Transportation and Infrastructure Studies (CTIS)
Anggoro Chairman of the Indonesian Satellite Association
Puguh Kuswanto Chairman of APKOMINDO
FEATURED EVENTS
Banking / Finance
Construction / Building Management
Government Body / Military / Utilities
Services Industry
Engineering / R&D Services
Healthcare / Pharmaceutical
Logistic / Transportation
Energy / Oil Gas
Aerospace
Automotive
Building & Construction
Chemical
Defense
Consumer Goods Manufacturing
Electical & Electronics
Energy
Fine Mechanical & Optics
Food & Beverage
Infrastructure & Facilities
IT & Telecommunications
Metal, Metalware & Metalwork
Materials
Medical Devices
Pharmaceutcal & Biotechnology
GALLERY
VIEW MORE
VIEW MORE
GOVERNMENT SUPPORT
ASSOCIATIONS AND COMMUNITIES
COMPANIES
EDUCATION SUPPORT
SPONSOR
MEDIA PARTNER